The self storage industry is a competitive landscape. To stand out among the competition, it's crucial to harness the power of digital marketing. Today, we will thoroughly examine Storagely's Marketing Tools Hub—an all-encompassing suite meticulously crafted to empower self storage marketing strategies.
Storagely stands out with its customizable storage websites, powerful reporting engines, and user-friendly renter interfaces, offering a plethora of features and benefits designed to optimize self storage facility operations and marketing efforts.
The Storagely platform is revolutionizing the industry, boosting online visibility, streamlining rental processes, and driving revenue growth. It offers specialized tools like SEO, lost revenue recovery, business listing management, and more. Plus, their innovative rental software optimizes the customer experience. 
Ready to stand out in a competitive market? Let's dive into the world of Storagely.
Watch our video for a complete overview of our Marketing Tools Hub!
What is Self Storage SEO? Understanding the Power of SEO in Storagely's Marketing Tools Hub
Search Engine Optimization (SEO) is a fundamental component of digital marketing. It helps self storage businesses rank higher on search engine result pages (SERPs), making it easier for potential self storage customers to find their services. In the context of self storage marketing, SEO can significantly enhance your business's visibility online.
Storagely's Marketing Tools Hub includes robust SEO features that can optimize your website's content, meta tags, and keywords. These tools are designed to align with Google's algorithms, thereby improving your website's SERP rankings. By effectively using these SEO tools, you can attract more organic traffic, leading to increased leads and conversions.
Content Creation for Self Storage SEO
Digital content is pivotal in building an online presence and attracting tenants. Storagely offers innovative tools for creating engaging digital content, including virtual tours and storage size guides, enriching the digital content strategy of storage facilities.
Data Analytics and Reporting for Your Self Storage Business
Data analytics and reporting are crucial for assessing marketing performance. Otherwise, how can you properly determine if your SEO efforts are paying off? Storagely's powerful reporting engine provides valuable insights and ROI tracking, aiding in informed decision-making and self storage marketing ideas.
Storagely offers a groundbreaking feature that allows you to translate marketing to rentals, truly understanding your ROI.
We call it the "Marketing Source Attribution" report. In a matter of 30 seconds, you can find out how many paid rentals (and revenue) actually came from Google Ads, Sparefoot, and anywhere else you're spending marketing efforts or dollars. This feature constantly updates in real-time, meaning you can make decisions at the moment instead of waiting for a month-end or quarterly review.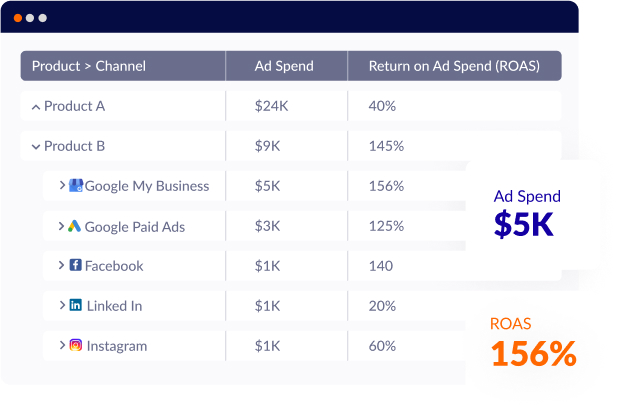 Do you need a team of experts to help you navigate the SEO world? With Storagely+, you can enjoy the power of the best storage rental software with our experienced digital marketing team.  
Self Storage Facility Revenue Recovery
In any business, especially in the self storage industry, lost revenue is a concern. A potential customer who abandons a reservation midway is a missed opportunity. However, Storagely's Marketing Tools Hub offers unique solutions to this problem.
With features like Abandoned Rental Recovery, you can recover potential lost revenue. This tool gently reminds customers about their unfinished reservations, encouraging them to complete their rental. This proactive approach not only aids in recovering potential lost revenue but also enhances the customer experience by reducing friction in the rental process. This strategy can optimize your facility occupancy, maximize your revenue potential, and contribute significantly to effective self storage marketing.
Storagely's Marketing Tools Hub offers tools designed to amplify your self storage marketing efforts. By harnessing the power of these tools, you can enhance your online visibility, boost your credibility, recover lost revenue, and ultimately, grow your storage business amidst a competitive landscape.
Managing Your Business Listings Effectively with Storagely's Marketing Tools Hub
In the era of digital information, maintaining accurate and consistent business listings across various online platforms is crucial. This task becomes even more essential for self storage marketing, where potential customers rely heavily on online information to make rental decisions.
Storagely's Marketing Tools Hub simplifies this task with its Business Listings Management features. These tools ensure that your business information is accurate, up-to-date, and consistent across all platforms, making it easier for potential customers to find and contact your storage facility.

Boosting Your Online Presence: Generating More Google Reviews with Storagely
Online reviews play a significant role in shaping a business's reputation. Positive reviews can boost your credibility, improve your SERP rankings, and, ultimately, attract more customers.
Storagely's Marketing Tools Hub provides features that help generate more Google reviews for your storage business. By displaying your facility's Google reviews directly on your self storage website, you can significantly enhance your online presence and credibility. This strategy is integral to effective self storage marketing, helping build trust with potential customers and differentiate your business in a crowded market.
Referral Programs and Community Involvement
Referral programs and community involvement offer myriad benefits to self storage facilities. Storagely facilitates the setup and management of referral programs and fosters partnerships with local businesses, enhancing community engagement.
FAQ Time! Answering Your Questions About Marketing Tools
We understand you may have many questions regarding Storagely's Marketing Tools Hub. To help you navigate our features and storage services, we've compiled some of the most frequently asked questions about our marketing tools and their respective answers. 
Storagely FAQs
How can Storagely's marketing tools benefit my storage facility?
Storagely's tools can optimize your online presence, increase rentals, and boost revenue through comprehensive marketing strategies.
Can Storagely help improve my storage facility's online presence?
Yes, Storagely enhances online presence through SEO, digital content, and online reputation management.
Will Storagely's tools help increase rentals and boost revenue?
Absolutely, Storagely's innovative tools are designed to drive more rentals and subsequently increase revenue.
What features are included in Storagely's comprehensive suite of marketing tools?
Storagely offers a range of features, including website optimization, digital content creation, SEO, customer review management, social media marketing, referral programs, and data analytics. 
How can I track the performance of my marketing efforts using Storagely's tools?
Storagely's reporting engine provides valuable insights and ROI tracking, allowing you to monitor your marketing performance and make informed decisions.
How do I market my self storage business?
Storagely's Self Storage Marketing Tools Hub offers a variety of features and services to help you effectively market your self storage business, including SEO, online reputation management, social media marketing, and more. Our team of experts can also provide personalized recommendations based on your business needs.
How do I get more storage clients with Storagely?
By utilizing Storagely's self storage rental system and services, you can enhance your online visibility, credibility, and customer engagement. This will ultimately attract more potential customers to your storage facility, increasing the chances of converting them into rentals.
Storagely is your go-to solution for your self storage marketing needs. Whether you aim to optimize your online presence, boost your rentals and revenue, or manage your online reputation, Storagely can cater to your needs. 
With the benefits of accurate analytics, effective SEO, strategic digital content, and efficient referral programs, you can effectively elevate your marketing strategies and foster the growth of your self storage company. Trust Storagely to navigate the complexities of the digital marketing landscape, driving value and success to your storage facility.
Trust Your Storage Facility to the Future of Self Storage Marketing
Storagely is at the forefront of innovation, adapting to industry trends and the evolving needs of storage facility owners, paving the way for the future of self storage marketing.
Storagely's comprehensive marketing tools are revolutionary, allowing storage facility owners to optimize their marketing efforts, increase self storage unit rentals, and boost revenue. Leveraging Storagely's platform is the key to staying ahead in the competitive storage facility landscape.
Trusting your storage facility to Storagely means embracing the future of self storage marketing. It means leveraging cutting-edge tools, gaining valuable insights, enhancing customer experience, and driving your business growth. With Storagely, you're not just keeping up with the competition but staying ahead. So why wait? Step into the future of self storage marketing with Storagely today.
Don't let your self storage business be left behind in the digital age. Embrace the future of self storage marketing with Storagely. Unlock the full potential of your facility with our comprehensive suite of marketing tools designed to boost your online presence, increase rentals, and drive revenue growth. 
Contact us today to learn how Storagely can transform your marketing strategy and put your business on the path to success. It's time to leap to the future with Storagely.