In the self storage industry, having accurate and insightful data at your fingertips is crucial. It allows self storage facility owners to make informed decisions, plan for the future, and understand your business's performance in real time. 
However, finding a reporting tool that can provide all of this in an easy-to-understand and actionable format can be challenging. That's where Storagely's Reporting Engine comes into play. This comprehensive self storage market report software integrates multiple data points, provides real-time updates, and simplifies the complex process of generating reports.
Do you want to see more? Watch our video to learn about Storagely's Reporting Engine Hub!
Unleashing the Power of Data with Storagely.io
In today's digital age, the power of data cannot be underestimated. For self storage businesses looking to scale and optimize their operations, having a comprehensive and intuitive reporting tool is no longer a luxury; it's a necessity. Storagely.io stands at the forefront of this revolution, offering a cutting-edge self storage reporting software platform that integrates seamlessly with existing software, simplifies data analysis, and provides real-time insights.
The Need for Comprehensive Reporting in the Self Storage Sector
Self storage facilities often need custom reports that may not be available through their current Facility Management Software (FMS), website, or marketing options. Pulling information from multiple sources and layers the data to find trends can be time-consuming and overwhelming. This often leads to decision-making based on limited information, not the complete picture you need for strategic planning.
Operational Clarity:

Get a clear view of your business operations with Storagely's comprehensive reporting engine.
Keyword Insight:

Understand how well your storage website performs in search rankings and identify opportunities for self storage

SEO improvement

.
Integrated Insights:

Storagely integrates with storEDGE, leading management software for self storage businesses, allowing you to extend your reporting capabilities and get more out of your data.
Automated Data Aggregation:

Storagely saves you time by automating data aggregation, normalization, and formatting, allowing you to focus on analysis and decision-making.
One-Stop Dashboard:

Storagely brings every lead captured from different marketing channels under one platform, providing a complete view of your customer journeys and the impact of your marketing efforts.
Experience the power of Storagely.io and schedule a free demo to understand how it can revolutionize your reporting process in the self storage sector. With the best self storage software, you'll have the insights you need to drive your business forward.
Introducing Storagely's Reporting Engine
Storagely's Reporting Engine revolutionizes the way self storage market reports are created and analyzed. Unlike other reporting platforms, our engine integrates multiple points of data, allowing them to interact with each other. This means combining operational metrics with marketing data and source attribution in a single report, providing a comprehensive view of your business's performance.
For instance, our reporting engine shows how many online rentals your website generates and how many of your phone calls and walk-ins come directly from your website. Without this information, you might underestimate the value of your storage website as a revenue source.

Comprehensive Reporting Features for Self Storage Facility Owners
Storagely's reporting engine provides a wealth of features designed to give you a clear picture of your business performance:
Marketing Source Attribution:

This feature helps prove the ROI of your marketing efforts by tracking the original source of digital touchpoints such as phone calls, website leads, and rentals.
Rental Comparison Report:

Self storage operators can compare rental performance across different periods and identify trends or issues that need attention.
Year-Over-Year Rentals:

Understand how your rental performance changes over time with a clear year-on-year comparison.
Negative Rankings Report:

Identify areas where your business is underperforming and take necessary corrective measures.
Track Rankings by City:

Get a city-wise breakdown of your rankings to understand where you're performing well and where improvements are needed.
Self Storage Units Report:

Get detailed insights into the performance of storage units to manage your inventory effectively.
Reservations Report:

Track reservation trends and optimize your booking process to improve customer experience and increase conversions.
Portfolio Review:

Get a comprehensive view of your entire portfolio's performance and make data-driven strategic decisions. 
Storagely's Reporting Engine offers a versatile, comprehensive, and intuitive platform for self storage properties to make data-driven decisions. It streamlines the complex process of report generation. It presents insights in a digestible format, empowering businesses to optimize operations and marketing and ultimately propel growth for their self storage investment.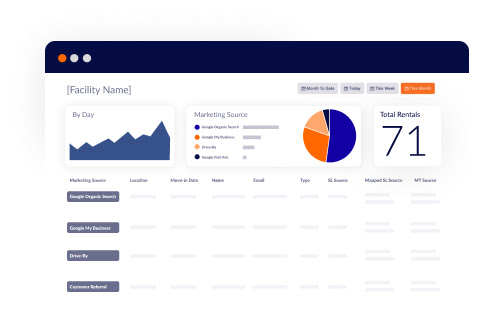 Real-Time Updates
One of the standout features of Storagely's Reporting Engine is its real-time updates. Instead of waiting for monthly or quarterly reports, you get the information you need immediately. This enables you to react quickly to changes in your business and the market, giving you a competitive edge.
Source Attribution and Marketing ROI
Storagely's "closed loop" reporting system also allows you to attribute a source to every website lead, reservation, paid rental, and phone call. This means you can see exactly how many rentals and how much revenue is coming from Google Ads, Sparefoot, Facebook, and other marketing platforms. With this information at your fingertips, you can spend your marketing budget more efficiently, generating a better return on investment.
Integration With Facility Management Software
Another advantage of Storagely's Reporting Engine is that it integrates directly with your facility management software. This extends your FMS reporting capabilities, providing even more data for your self storage market report.
Understanding that many self storage businesses already use management software, Storagely.io offers seamless integration with storEDGE, a leading management software for self storage businesses. This integration enhances your reporting capabilities, allowing you to get more out of your data and stay up-to-date with current market trends.
User-friendly Interface
Despite its powerful features, Storagely.io maintains a user-friendly interface. Its cutting-edge website design and intuitive rental system make it easy for anyone to navigate and use the platform, regardless of their technical proficiency.
Storagely's Reporting Engine simplifies the complex process of generating reports. Instead of spending hours trying to generate a single report from your FMS, you can visualize essential metrics in a matter of seconds with our integrated reporting engine.
In the words of the classic Rolling Stones lyric, "You can't always get what you want." But with Storagely's Reporting Engine, you'll get all the data you need for your self storage market report, presented in a clear, easy-to-understand format.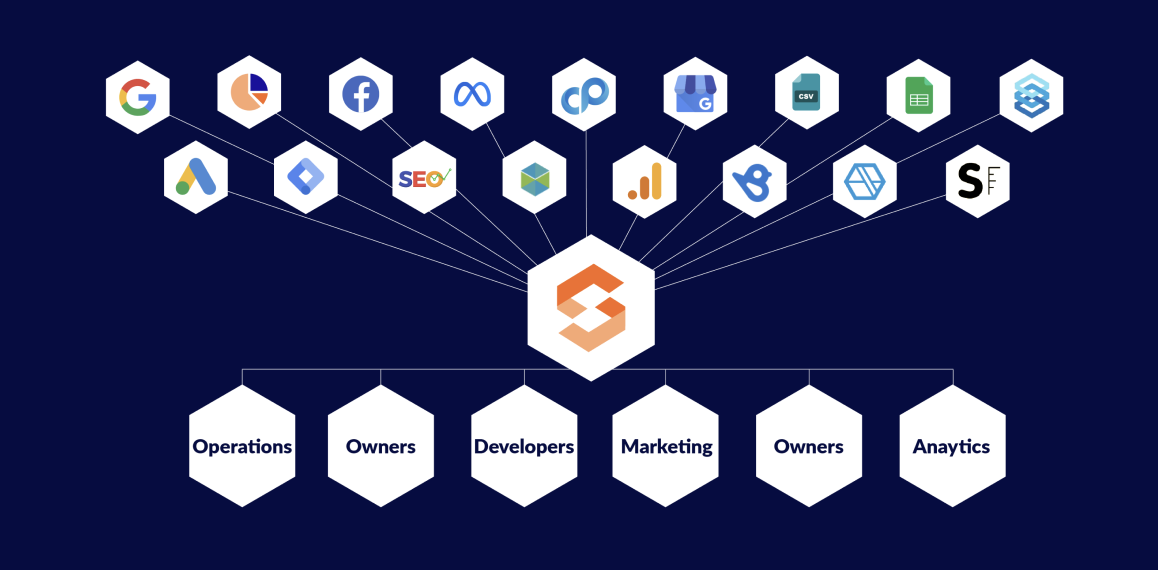 Ready to transform your self storage market report with Storagely's Reporting Engine? Schedule your free demo today to see how Storagely can be a game-changer for your reporting. 
Transform Your Self Storage Business Today
With Storagely's Reporting Engine, self storage market reports are no longer a time-consuming and complex process. Our comprehensive reporting software makes gathering, organizing, and analyzing your data in real time easy. Experience the power of data-driven insights with Storagely.io today and take your business to new heights.  
Don't just take our word for it. Receive a free marketing analysis today and see the impact of the best self storage software for yourself. Embrace the power of Storagely and take control of your reporting process now. With Storagely's Reporting Engine, the possibilities are endless!